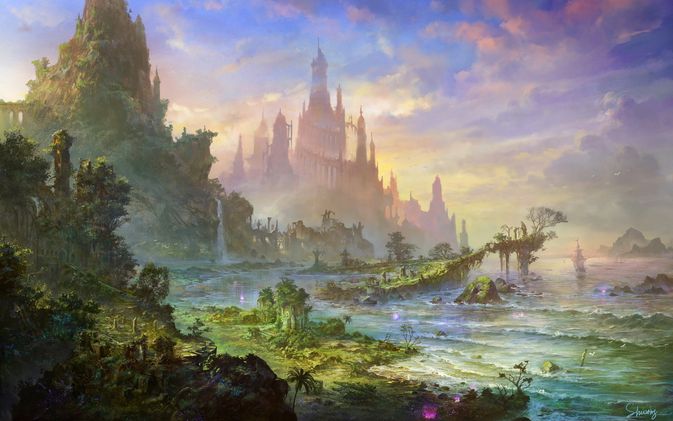 Before I start on anything else:
We've been experiencing some issues with our spam protection so if you send me an e-mail without getting a reply after a days please check back with me or the team via contact form or comment under the blog so we can resolve the matter.
New Perspectives
I haven't been very active on my website as of late.  
That's because there's been a lot of change in my life within the past months.
I've been thinking a lot about my recent past and present and eventually my future.

It feels like I'm on the edge of a forest. My friends to each side along with my family and before me a beautiful landscape of sunny meadows and hills, blossoming forests, silver rivers and the wind calling my name.
It's a new world full of chances.

There's the lovely old watermill, reliable and up close, and the fairy tree full of wonder that I might finally be able to visit. And somewhere in the far distance up in the mountains lies a shiny white castle.

I've been standing there for a while, looking out, wondering what might await me, wondering if the weather might change once I take a step; if my friends would follow me or if they notice this amazing world at all.
I worried about shadows and twisted paths hidden in that world, trying to hinder me, leading me astray.

But today's the day.
Today I feel like walking!

I don't know how long my journey will take or where it will end. Maybe at the water mill or the fairy tree, or the castle. Or maybe somewhere far beyond that.
And should I get lost in another forest, darkness closing in, I hope my friends and family will be there beside me, that we can find our way together through this wondrous world of chances.

I'm happy. I'm anxious. I don't know what's coming.
But I'm walking, step by step, towards my future.
It's a story and I finally realized that I'm its author and hero at the same time.
And even though I don't know what's coming, I feel it's going to be a glorious adventure!
What do you see beyond the forest?