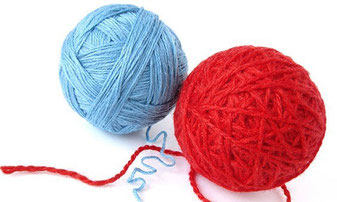 Deutsch: (for english scroll down please!)

Ich schreibe schon seit einer ganzen Weile, aber als ich mich erstmals dazu entschloss ernsthaft Geschichten schreiben zu wollen traten plötzlich Probleme auf, mit denen ich zuvor nie zu kämpfen hatte. Eins der gemeinsten Beispiele: Das Ideenchaos.
Nur durch Zufall (und meinen unverbesserlichen Perfektionismus) bin ich eines Tages darauf gestoßen. Ich las gerade zum zehnten Mal durch mein damaliges Buchprojekt und stellte im fünften Kapitel plötzlich fest "Irgendetwas stimmt hier nicht… etwas passt nicht." Es war so als wenn man ein Fadenende in mitten eines Wollknäuels entdeckt. Man beginnt daran zu ziehen und hat auf einmal einen Faden in der Hand der nicht zum Knäuel gehört.  In meinem Fall war es ein Charakter den ich erst nachträglich eingefügt hatte. Ich dachte, ich hätte ihn gut eingepflegt und trotzdem stand ich bei genauerem Hinsehen mit dem Faden in der einen und dem Knäuel in der anderen Hand da. Also wurden der Charakter und alle Szenen mit ihr aus der Geschichte rausgenommen und vorerst archiviert, für den Fall, dass ich sie später woanders einsetzen könnte.
Bei noch genauerem Hinsehen hatte sich in mein rotes Wollknäuel auch noch eine Menge Blau eingeschlichen! Also machte ich mich an die mühselige Arbeit den blauen Faden aus dem roten Knäuel zu ziehen und machte ein eigenes daraus. Ich stand also im Endeffekt mit Stoff für zwei Bücher da und einem Charakter plus Szenen die derzeitig keine Verwendung hatten. Aber auf einmal funktionierte alles wieder.
Tatsächlich ist das blaue Knäuel zu meinem ersten Buch geworden.
Was ich also eigentlich damit sagen will ist: Manchmal lohnt es sich das Fadenende nicht zu ignorieren, sondern daran zu ziehen. Manchmal ist es wichtig und gut für die Entwicklung der Geschichte Charaktere oder Szenen, ganze Handlungsstränge rauszunehmen.
Um solche Dinge zu bemerken, muss man  der Geschichte zuhören. Um verstehen zu können, was sie versucht einem zu sagen, muss man sie, ihre Regeln und Stimme kennen lernen. Nur dann wird man merken, dass etwas nicht stimmt und nur dann wird man das falsch platzierte Teil sehen können.
Es ist eine schwere Aufgabe aber definitiv nicht unmöglich und ich kann nur sagen: Es lohnt sich!



English:
I've been writing for quite a while now but the moment I decided to get serious about it, I suddenly faced problems I never had to encounter before. One nasty example: The idea chaos.
Only by accident (and my incorrigible perfectionism) I stumbled upon it one day. I was reading through by book project from back then for the tenth time and suddenly ascertained in the fifth chapter "Something's not right here… something doesn't fit."
It was like finding a lose thread end in a ball of wool. You start pulling and at one go you have a thread that doesn't belong to the ball. In my case it was a character I had introduced rather late to the story. I thought I had mounted it nicely into the plot, yet on second glance I stood there with thread in one hand and the ball of wool in the other. So the character and all scenes connected to it were taken out of the story and archived in case I would need them some other time.
On even closer inspection lots of blue had sneaked its way into my red ball of wool!
Well, I set to the toilsome work tinkering the blue thread out of the red ball and made a new one out of it. In the end I had material for two books and a character plus scenes without current usage. Anyway, everything was working again!
Actually that blue ball of wool turned into my first book.
What I want to say is: Sometimes it's worth it pulling that lose end instead of ignoring it. Sometimes it's important and good for the development of the story, character or scene, to take out entire plotlines.

To notice things like these you have to listen to your story. To be able to understand what it's trying to tell you, you have to get to know it first, get to know its rules and voice.  Only then you will perceive something's not right and only then you will see that wrongly places piece.
It's a tough exercise but it's definitely not impossible and I can only say: It's worth it!