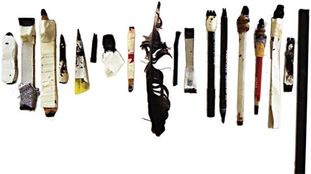 German:
Die Website ist fertig! Yey!

Wenn du gerade eine neue Geschichte anfangen möchtest, eine neue Welt planen möchtest, eine bestimmte Kreatur benötigst oder einen Charakter oder ein Objekt kreieren möchtest, dann habe ich heute ein paar tolle Tools für dich!
Wenn du in den Downloadbereich meiner Website schaust, findest du vier Fragebögen, die dir bei der Inhalts-erstellung helfen können. I benutze sie selbst oft und dachte mir, ich sollte mein Glück mit euch teilen.

English:
The website is finished! Hooray!
If you're just starting on a new story, planning a new world, need a certain creature or want to create a character or object, then I got some sweet tools for you today!

If you go to Downloads on my website, you'll find four questionairs to assist you in content creation. I use them myself and find them very handy so I figured I might as well share my luck!